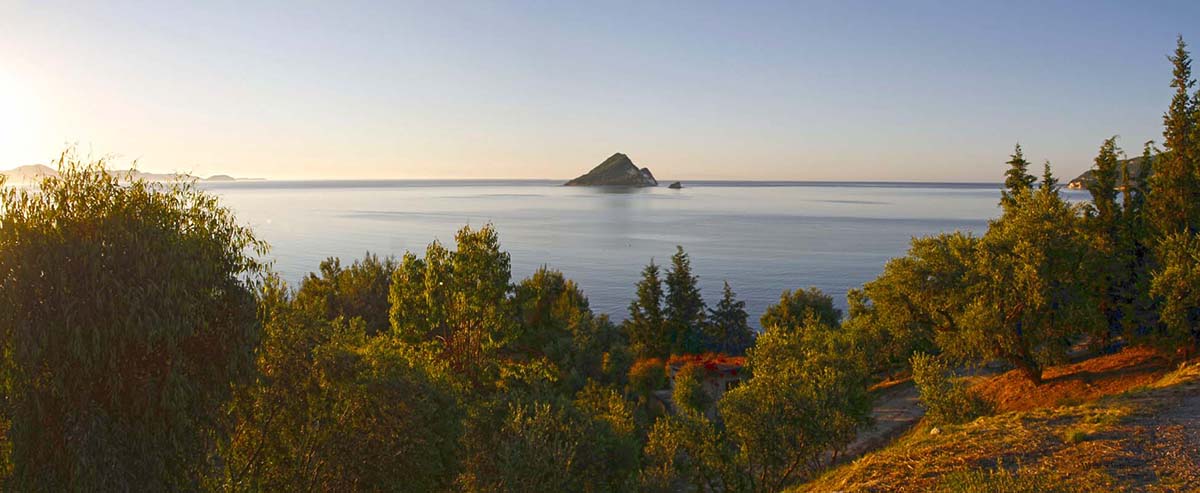 Earth, Sea & Sky plays a vital role in the protection of the endangered Mediterranean Loggerhead Turtle, Caretta Caretta on the island of Zakynthos. Since being founded in 1991, by native Zakynthian Yannis Vardakastanis, Earth, Sea & Sky have worked tirelessly to research, monitor, and protect the sea turtles of the island.
It used to be that when an injured turtle was found in Zakynthos, she was flown to the Rescue Hospital in Glyfada, Athens, a flight of around 1 hour. Unfortunately, in recent years these flights have become unavailable, so the turtles have to be driven and taken via ferry on a six to eight hour journey; this wait is often the difference between life and death.  Immediate treatment is essential for injured sea turtles to survive, which is why Earth, Sea & Sky teamed up with Sea Life Centre UK's SOS Campaign to raise money to build a Sea Turtle Rescue and Rehabilitation Centre in Zakynthos to treat the turtles here on the island. We want to ensure that injured turtles can receive immediate medical treatment from specialist marine vets, rehabilitation and ultimately be released back into the ocean, all without having to be flown to Athens. Our centre was built in June 2012, and although we are still waiting for the funds to be able to complete it, we hope that many of the injured turtles found on the beaches and sea can be saved and rehabilitated here.
As a direct result of our Information Centre and the increasing pressure exerted on local government by European laws, Gerakas beach has now reduced the number of sunbeds from approximately 180 to 100. Every little helps to maintain this precious nesting spot for the Caretta caretta turtles in Zante. In addition, all pedalos and boating activities have been successfully banned from the area.
HISTORY
1993: EARTH, SEA & SKY WAS FOUNDED BY YANNIS VARDAKASTANIS
1999: EARTH, SEA & SKY WAS REGISTERED AS A NON-GOVERNMENTAL ORGANISATION
2000: TURTLE RELOCATION
In July 2000 Earth, Sea & Sky played a crucial role in the successful airlift and relocation of three injured Loggerhead sea turtles from Greece. The turtles were so badly injured that they could not be returned to the wild, so they were transported to the Sea Life Bioservices Centre in Weymouth. The turtles had been cared for at the STPS Rescue Centre in Glyfada, Athens, but their injuries, a consequence of fishing net entanglement and human attack had rendered them unfit for release into the wild. The turtles, coupled with fantastic public awareness displays at the Weymouth Centre, encourage people to be aware of the wonderful biodiversity found in Zakynthos, and understand the threats that it faces.
2000: COASTAL CLEAN UP CAMPAIGN
Our Coastal Clean Up Campaign in the Summer of 2000 actively involved tourists in conservation work whilst promoting the importance of the newly designated National Marine Park on Zakynthos.
The Laganas Bay beaches are under immense pressure from tourists, who use the beaches in the daytime. A team of volunteers protected these sites for the turtles, which only come ashore after dark to lay their eggs, by stacking sun beds and clearing away litter and larger debris each evening. Years of neglect had taken their toll on several almost inaccessible sites such as Vrodonero, where steep cliffs provide an ideal walled sanctuary for endangered sea birds, turtles and Monk seals. Our team of volunteers cleared them of decades of drift waste; a long term habitat improvement for wildlife.
2005: WORKED WITH LONDON ZOO ON THEIR SHELL SHOCKED CAMPAIGN
Over summer 2005, Earth Sea & Sky worked with the Aquarium at London Zoo on their Shell Shocked Campaign. 2005 was the Year of the Turtle, and to raise public awareness London Zoo Aquarium ran a Leather Back Turtle Tour visiting aquariums right across the UK – including Plymouth and Bournemouth – with a model of a Leatherback Turtle, accompanied by an HM Customs seized turtle. Earth Sea & Sky helped compile a Turtle Fact Sheet about the Zakynthos Loggerheads, which was distributed to the public throughout the tour.

2005: HIGHLY COMMENDED AWARD FOR 'BEST IN A MARINE ENVIRONMENT' FROM FIRST CHOICE
2006: SOS APPEAL LAUNCHED WITH HELP FROM SEA LIFE CENTRES ACROSS THE UK
Earth, Sea & Sky joined forces with Sea Life Centres throughout UK and Europe to launch our SOS appeal in 2006. Currently, injured and distressed sea turtles have to undergo a minimum 7 hour trip to the sea turtle hospital in Glyfada in Athens—the only rescue facility in all of Greece! This causes delays in urgently needed treatment, lowering their chances of a full recovery and return to the wild. Sea Life helped Earth, Sea & Sky to raise the funds to build our very own sea turtle rescue & rehabilitation centre.
2007: HIGHLY COMMENDED FOR 'BEST CONSERVATION OF ENDANGERED SPECIES' IN VIRGIN RESPONSIBLE TOURISM AWARDS
2011: EXPANDING THE INFORMATION CENTRE
In 2011 Yannis and some volunteers started the expansion of the information centre. Research Paper and the recovery area were built and completed before the season started in 2012. Since then it has been operating as an information centre with free entrance to visitors.
2012: THE REHABILITATION AREA WAS BUILT
In the winter of 2012, Yannis started to build the rehabilitation area. This is where the sick and injured seaturtles will be kept when they first arrive. It was completed before the season started in 2013.
2013: THE CLINIC AND FOOD PREPARATION AREA WAS BUILT
Yannis started to build the clinic and the kitchen/food preparation area in the winter of 2013, both located in Research Paper. This was completed before the season started in 2014.
2015: Our goal for this year is to raise enough money to buy the necessary equipment for our clinic, and obtain the licence to be able to take in an Endangered Species (that was applied for last year!)