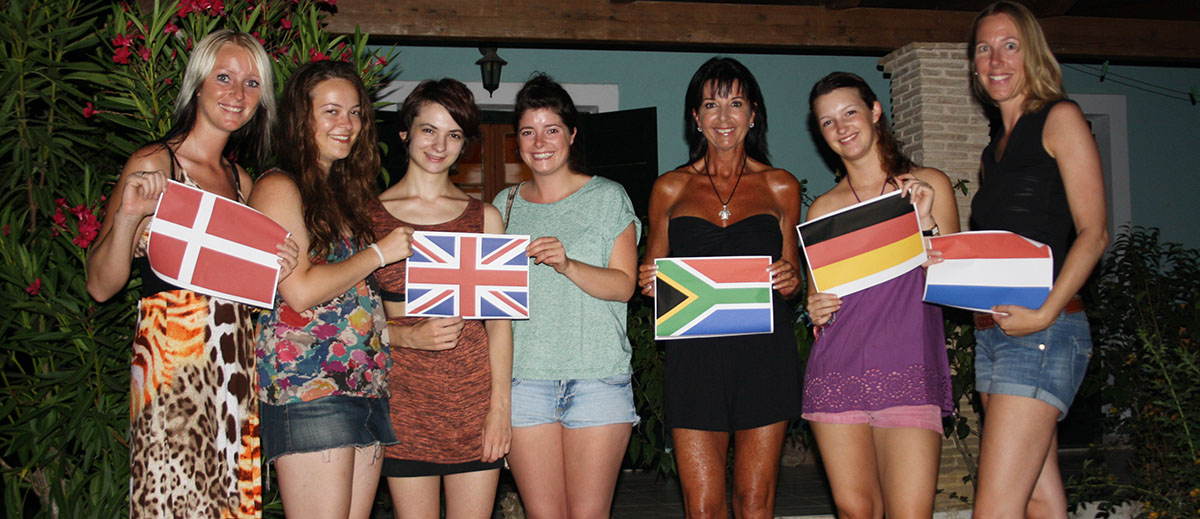 The Earth, Sea & Sky Volunteer project is currently running from April to October; due to extend over the whole year once the Rescue & Rehabilitation Centre is completed.
Volunteers will be required to work between 7 and 9 hours per day – split into either 2, 4 or 5 hour shifts. These shifts include very early mornings (7/8am) and/or late nights (8pm, but occasional 11pm finishes will be required if taking part in the night survey). Allocation and frequency of shifts are dependent on time of year and number of available volunteers. We will endeavour to provide you with a varied schedule.
THE INFORMATION CENTRE
Work in the information centre will primarily include general maintenance and talking with visitors. Maintenance includes keeping the tanks clean, general cleaning of the centre e.g. sweeping and dusting, maintaining the stock in the shop, serving customers at the till and caring for our animals (fish and reptiles at the moment). You will also talk to visitors about the work Earth, Sea & Sky do and the challenges facing the Loggerhead sea turtle, all with the goal of education in mind. You will encourage sea turtle friendly behaviour and answer any questions visitors may have. This is some of the most important work we do here and takes place every day throughout the whole season; May to October.
SEA, BEACH AND FOREST CLEANS
Occasionally volunteers will go on litter cleans collecting rubbish from the forest, local beaches and even the sea floor. Local people rarely clean up the beaches and forests; left over shot guns shells are a problem in particular in the forests as in the height of summer they can cause forest fires. Tourists also leave a lot of rubbish behind them, especially on the beaches. Litter on the beach not only looks untidy but is also dangerous for the local wildlife. Litter is often ingested by birds and sea turtles causing injury, illness and even fatality. We also clean the parking area next to the centre once in a while because nobody else is doing so.
MORNING SURVEYS
Morning surveys will take place on local nesting beaches where nest numbers and locations will be monitored and recorded. Morning surveys will start mid May and continue to mid October. Sea turtle tracks leading back to the sea with no nests may indicate they have been disturbed, tracks can also provide evidence of any obstacles they encountered, e.g. sunbeds or sandcastles. Nest relocations may sometimes be necessary if the sea turtle lays her eggs too close to the sea or in areas tourists often tread. During nesting season sea turtles lay their eggs at night, but there might be a chance to see them early in the morning. The same goes for the hatchlings in the hatchling season.

NIGHT SURVEYS
Nesting beaches are occasionally visited at night to monitor any illegal activity taking place, including noise and light pollution; also to collect evidence and research. This is an important part of the volunteer experience and very educational to understand the seriousness of the problems facing the protection and preservation of the nesting beaches. We also visit Laganas as an example of how what once was a primary nesting beach has now been completely lost to tourism and the negative effects it has on the hatchling population throughout the bay.
ADMINISTRATION WORK
There's always tasks in the office from making leaflets and posters, doing research, sending out e-mails, making information signs for the centre, maintaining social media sites and writing up data. There will be a variety of other jobs that need doing in the office on an ad-hoc basis, all of which are essential to the work here at Earth, Sea & Sky.
DATA COLLECTION & RESEARCH
Earth, Sea & Sky collect a lot of data each year. This includes photographic and video evidence of nesting beach violations, the number of nests being laid on different beaches and hatchling success rates. We are now co-operating with Loggerhead Marinelife Center, based in Florida, who will, among other things, be assisting in data collection on the water and sand quality on the island. This is vital information with regards to wildlife health and hatchling success rates. Volunteers may be asked to assist in collecting samples and will also help in monitoring the population on some local nesting beaches.
FUNDRAISING
People can donate at our centre, they can donate online and they can buy sea turtle souvenirs in our gift shop. Sponsorship programs are being established this year and eventually sea turtle adoptions will be available as well. To continue what we do we need all the support and help we can get and volunteers help a lot in this area. There is a great opportunity to create new ideas that will benefit the project.
The number of Earth, Sea & Sky volunteers varies at any given time. Ranging from 1 to 13 volunteers. You will join the team that works at the Sea Turtle Rescue & Rehabilitation Centre throughout the year to help with their ongoing efforts in conservation and protection.

What You'll Learn Volunteering With Us
During your time here at Earth, Sea & Sky, you'll gain fantastic knowledge and hands on experience of working with a conservation charity. You'll:
Gain experience combining sustainable tourism and conservation
Learn about the basic care and maintenance of aquatic, marine and reptilian animals at our Rescue Centre
Enjoy the thrill of seeing the Caretta caretta sea turtles and hatchlings in their natural environment
See dolphins, and are likely to catch a glimpse of the very shy and extremely endangered Mediterranean Monk Seal (Monachus monachus)
Make a great first step towards your career in practical conservation
Make a lasting one-off contribution to the preservation of endangered species
Experience Greek culture first hand
Explore the picturesque island of Zakynthos with the possibility to enjoy eco-friendly island tours
Have time off every day to relax and unwind during your volunteer post in Greece
Gain long lasting friendships with volunteers from around the globe
On average, volunteers get a free day for every 5 worked. During free time, activities available to volunteers include walking, swimming, horse riding and snorkelling. A visit into Zakynthos Town is a must. There will be plenty of time to relax on the beach and enjoy the local surroundings. We recommend and can plan a sailing trip and/or Jeep tour of the island, both of which come highly recommended by previous volunteers.
Please note: Earth, Sea & Sky projects are not holidays! It must be understood that projects by definition are going to have a risk factor, whether clearing junk dumped in forests or rescuing injured wildlife. All future participants should be aware of the risks involved and make an informed decision on participation. Also, this is not a drinking holiday – we do serious work here!